Prof. Dr. Gunter Meister
Regulation der microRNA-Biogenese durch RNA-bindende Proteine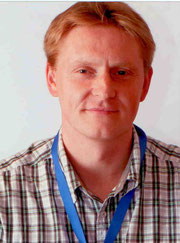 Lehrstuhl für Biochemie
Universität Regensburg
Universitätsstraße 31
93053 Regensburg
Tel: +49 (0)941/943 28 47
Fax: +49 (0)941/943 29 36
Email: gunter.meister@vkl.uni-regensburg.de
Forschungsgebiet
MicroRNAs (miRNAs) sind kleine regulatorische RNAs, die die Expression von spezifischen Zielgenen negativ beeinflussen, indem sie entweder die Translation inhibieren oder den Abbau der mRNA induzieren. MiRNAs werden zunächst im Zellkern als lange Primärtranskripte (primary miRNAs) hergestellt. Diese Transkripte werden in zwei aufeinander folgenden Prozessierungschritten, die durch die RNase III-Enzyme Drosha und Dicer durchgeführt werden, zu reifen miRNAs prozessiert. Die Biogenes von miRNAs wird auf allen Stufen reguliert und Fehler bei der miRNA-Expression wurde mit Krankheiten wie zum Beispiel Krebs in Zusammenhang gebracht. Forschungsarbeiten der letzten Jahre haben gezeigt, dass RNA-bindende Proteine die Prozessierung von einzelnen miRNAs positiv oder negative regulieren können.
Um RNA-bindende Proteine, die für die Reifung von miRNAs eine Rolle spielen, zu finden, haben wir einen Proteomics-Ansatz entwickelt, der es erlaubt miRNA-spezifische Interaktoren zu identifizieren. 70 verschiedene miRNA-Vorläufer (pre-miRNAs) werden unabhängig voneinander immobilisiert und mit Zellextrakten inkubiert. Die gebundenen Proteine werden mittels Massenspektrometrie identifiziert und weiter funktionell charakterisiert. Die Experimente werden in 10 verschiedenen Krebszelllinien durchgeführt um ein genaues Bild der zellulären Interaktionsnetzwerke von pre-miRNAs zu erhalten. Wir erwarten, dass unsere Arbeiten auch Rückschlüsse auf die Entstehung bestimmter Krebsarten zulassen.
Mitarbeiter
Dr. Thomas Treiber
Dr. Nora Treiber
Wir gratulieren: siTools gewinnt 2. Preis in Businessplan-Wettbewerb
Die von Prof. Gunter Meister aus der Universität Regensburg heraus gegründete Firma siTools Biotech GmbH hat in der dritten Phase des diesjährigen Businessplan-Wettbewerbs Nordbayern 2014 den 2. Platz belegt. Der Wettbewerb wird von der Gründer- und Unternehmerinitiative "netzwerk nordbayern" gemeinsam mit der Siemens AG ausgerichtet. Hier sehen Sie das Video des prämierten Projektes "Neuartige Reagenzien für die Genfunktionsanalyse". Lesen Sie mehr in der offiziellen Pressmitteilung der Universität Regensburg. Wir gratulieren Prof. Meister und siTools Biotech GmbH zu diesem Erfolg! 
Publikationen im Rahmen von BioSysNet
Treiber T., Treiber N., Plessmann U., Harlander S., Daiß J.-L., Eichner N., Lehmann G., Schall K., Urlaub H. & Meister G. (2017) A compendium of RNA-binding proteins that regulate microRNA biogenesis. Molecular Cell, April 20;66(2):270-284.
Hasler D., Lehmann G., Murakawa Y., Klironomos F., Jakob L., Graesser F.A., Rajewsky N., Landthaler M. & Meister G. (2016) The Lupus Autoantigen La Prevents Mis-channeling of tRNA Fragments into the Human MicroRNA Pathway. Molecular Cell, 7;63(1):110-24.
Jakob L., Treiber T., Treiber N., Gust A., Kramm K., Hansen K., Stotz M., Wankerl L., Herzog F., Hannus S., Grohmann D. & Meister G. (2016). Structural and functional insights into the fly microRNA biogenesis factor Loquacious. RNA, 22(3): 383-396. Epub 2016 Jan 14.
Dueck A., Evers M., Henz S.R., Unger K., Eichner N., Merkl R., Berezikov E., Engelmann J.C., Weigel D., Wenzl S. & Meister G. (2016) Gene silencing pathways found in the green alga Volvox carteri reveal insights into evolution and origins of small RNA systems in plants. BMC Genomics, 17(1): 853. doi: 10.1186/s12864-016-3202-4.
Loedige I., Jakob L., Treiber T., Ray D., Stotz M., Treiber N., Hennig J., Cook K.B., Morris Q., Hughes T.R., Engelmann J.C., Krahn M.P., Meister G. (2015) The Crystal Structure of the NHL Domain in Complex with RNA Reveals the Molecular Basis of Drosophila Brain-Tumor-Mediated Gene Regulation. Cell Rep. 2015 Nov 10;13(6):1206-20.
Hauptmann J., Schraivogel D., Bruckmann A., Manickavel S., Jakob L., Eichner N., Pfaff J., Urban M., Sprunck S., Hafner M., Tuschl T., Deutzmann R. & Meister G. (2015) Biochemical isolation of Argonaute protein complexes by Ago-APP. Proc. Natl. Acad. Sci. USA., 112(38):11841-5.
Schraivogel D., Schindler S.G., Danner J., Kremmer E., Pfaff J., Hannus S., Depping R. & Meister G. (2015). Importin-β facillitates nuclear import of human GW proteins and balances cytoplasmic gene silencing protein levels. Nucleic Acids Res. Sep 3;43(15):7447-61.
Schraivogel D, Meister G (2014). Import routes and nuclear functions of Argonaute and other small RNA-silencing proteins. Trends Biochem Sci 39(9):420-431.
Hauptmann J, Kater L, Löffler P, Merkl R, Meister G (2014). Generation of catalytic human Ago4 identifies structural elements important for RNA cleavage. RNA 20(10):1532-8.
Chandran PA, Keller A, Weinmann L, Adel Seida A, Braun M, Andreev K, Fischer B, Horn E, Schwinn S, Junker M, Houben R, Dombrowski Y, Dietl J, Finotto S, Wölfl M, Meister G, Wischhusen J (2014). The TGF-β-inducible miR-23a cluster attenuates IFN-γ levels and antigen-specific cytotoxicity in human CD8+ T cells. J Leukoc Biol. [Epub ahead of print]
Hannus M, Beitzinger M, Engelmann JC, Weickert MT, Spang R, Hannus S, Meister G (2014). siPools: highly complex but accurately defined siRNA pools eliminate off-target effects. Nucleic Acids Res 42(12):8049-61.
Loedige I, Stotz M, Qamar S, Kramer K, Hennig J, Schubert T, Löffler P, Längst G, Merkl R, Urlaub H, Meister G (2014). The NHL domain of BRAT is an RNA-binding domain that directly contacts the hunchback mRNA for regulation. Genes Dev 28(7):749-64.
Dueck A, Meister G (2014). Assembly and function of small RNA - argonaute protein complexes. Biol Chem 395(6):611-29. 
Dueck A, Eichner A, Sixt M, Meister G (2014). A miR-155-dependent microRNA hierarchy in dendritic cell maturation and macrophage activation. FEBS Lett 588(4):632-40. 
Pfaff J, Hennig J, Herzog F, Aebersold R, Sattler M, Niessing D, Meister G (2013). Structural features of Argonaute-GW182 protein interactions. Proc Natl Acad Sci U S A 110(40):E3770-9. 
Pfaff J, Meister G (2013). Argonaute and GW182 proteins: an effective alliance in gene silencing. Biochem Soc Trans 41(4):855-60.
Meister G (2013). Argonaute proteins: functional insights and emerging roles. Nat Rev Genet 14(7):447-59. 
Hauptmann J, Dueck A, Harlander S, Pfaff J, Merkl R, Meister G (2013). Turning catalytically inactive human Argonaute proteins into active slicer enzymes. Nat Struct Mol Biol 20(7):814-7. 
Publikationen vor BioSysNet
Schraivogel D., Weinmann L., Beier D., Tabatabai G., Eichner A., Zhu J.Y., Anton M., Sixt M., Weller M., Beier C. & Meister G. (2011) CAMTA1 is a novel tumor suppressor regulated by miR-9/9* in glioblastoma stem cells, EMBO J., 30(20):4309-22.
Petri S., Dueck A., Lehmann G., Putz N., Rüdel S., Kremmer E. & Meister G. (2011) Increased siRNA duplex stability correlates with reduced off-target and elevated on-target effects. RNA, 17(4):737-49.
Rüdel S., Wang Y., Lenobel R., Körner R., Hsiao H., Urlaub H., Patel D. & Meister G. (2011) Phosphorylation of human Argonaute proteins affects small RNA binding. Nucleic Acids Research, 39(6):2330-2343.
Aguilar A.L., Piskol R., Beitzinger M., Zhu J.Y., Kruspe D., Aszodi A., Moser M., Englert C. & Meister G. (2010) The small RNA expression profile of the developing murine urinary and reproductive systems. FEBS Lett., 584(21):4426-34.
Zhu J.Y., Pfuhl T., Motsch N., Barth S., Nicholls J., Grässer F. & Meister G. (2009) Identification of novel Epstein-Barr Virus microRNA genes from Nasopharyngeal Carcinomas. Journal of Virology, 83(7):3333-41.
Weinmann, L., Höck, J., Ivacevic T., Ohrt T., Mütze J., Schwille P., Kremmer E., Benes V., Urlaub, H., & Meister G. (2009) Importin 8 is a gene silencing factor that targets Argonaute proteins to distinct mRNAs. Cell, 136, 496-507.
Ender C., Krek A., Friedländer M.R., Beitzinger M., Weinmann L., Chen W., Pfeffer S., Rajewsky N. & Meister G. (2008) A human snoRNA with microRNA-like functions. Molecular Cell, 32, 519-528.
Rüdel S., Flatley A., Weinmann L., Kremmer E. & Meister G. (2008) A multifunctional human Argonaute2-specific monoclonal antibody. RNA, 14, 1244-1253.
Höck J., Peters L., Ender C., Rüdel S., Kremmer E., Urlaub H. & Meister G. (2007) Proteomic and functional analysis of Argonaute-containing mRNA-protein complexes in human cells. EMBO Reports, 8, 11, 1052-1060.
Beitzinger M., Peters L., Zhu J. Y., Kremmer E. & Meister G. (2007) Identification of microRNA targets from isolated Argonaute protein complexes. RNA Biology, 4(2).
Chen P. Y., Weinmann L., Gaidatzis D., Pei Y., Zavolan M., Tuschl T. & Meister G. (2007) Strand-specific 5'-O-methylation of siRNA duplexes controls guide strand selection and targeting specificity. RNA, 14, 1-12.