Prof. Dr. Eckhard Wolf
Entwicklungsbiologische Konsequenzen v. maternalem Diabetes mellitus: Eine molekular-systemische Studie v. Eizellen, Embryonen u. ihrer maternalen Umgebung im maßgeschneiderten Maus-u.Schweine Modell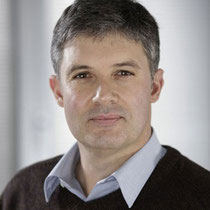 Molekulare Tierzucht und Biotechnologie
Genzentrum
Ludwig-Maximilians-Universität München
Feodor-Lynen-Str. 25
81377 München
Tel: +49 (0)89/21 80 76 800
Fax: +49 (0)89/21 80 76 849
Email: ewolf@lmb.uni-muenchen.de
Forschungsgebiet
Die Prävalenz von Diabetes mellitus steigt weltweit dramatisch an. Es ist bekannt, dass Diabetes bei der werdenden Mutter die Entwicklung der Embryonen und den Verlauf der Schwangerschaft beeinflussen kann. Diese Effekte können durch Veränderungen struktureller, funktionaler und molekularer Parameter in unterschiedlichen biologischen Kompartimenten entstehen – von einer verminderten Entwicklungskompetenz der Eizellen bis hin zu veränderten Umgebungsbedingungen für die Embryonen in der Gebärmutter. Diese Mechanismen werden in korrespondierenden Maus- und Schweinemodellen analysiert, die Insulinmutanten exprimieren, woraus eine permanente Hyperglykämie resultiert. Von diesen Modellen werden Eizellen gewonnen und im Hinblick auf strukturelle, funktionale und molekulare (Transkriptom, Proteom, Epigenom) Veränderungen analysiert.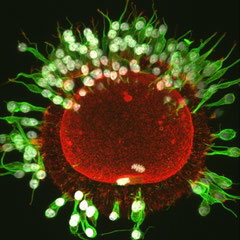 Um Effekte der mütterlichen Hyperglykämie auf die präimplantative Entwicklung von Embryonen zu untersuchen, werden Embryonen von Wildtyp-Spendertieren gewonnen und in zyklussynchronisierte diabetische und nicht-diabetische Empfängertiere transferiert. Anschließend wird die Entwicklung der Embryonen zum Blastozystenstadium erfasst. Darüber hinaus werden Embryonen für strukturelle (konfokale Laserscanning-Mikroskopie, Transmissions-Elektronenmikroskopie) und molekulare Analysen (RNA- und Proteinprofile sowie DNA-Modifikationen) prozessiert. Zudem werden RNA- und Protein-Expressionsprofile des uterinen Endometriums erstellt, um Effekte einer maternalen Hyperglykämie auf die Trächtigkeitserkennung zu adressieren. Diese Untersuchungen werden neue systemische Einblicke in entwicklungsbiologische Konsequenzen von mütterlichem Diabetes mellitus bieten.
Mitarbeiter
PD Dr. Stefan Bauersachs
Dr. Simone Renner
Dr. Barbara Keßler
Dr. Georg J. Arnold
Dr. Helmut Blum
Dr. Felix A. Habermann
Publikationen im Rahmen von BioSysNet
Graf A, Krebs S, Zakhartchenko V, Schwalb B, Blum H, Wolf E (2014). Fine mapping of genome activation in bovine embryos by RNA sequencing. Proc Natl Acad Sci U S A 111(11):4139-44. 
Renner S, Braun-Reichhart C, Blutke A, Herbach N, Emrich D, Streckel E, Wünsch A, Kessler B, Kurome M, Bähr A, Klymiuk N, Krebs S, Puk O, Nagashima H, Graw J, Blum H, Wanke R, Wolf E (2013). Permanent neonatal diabetes in INS(C94Y) transgenic pigs. Diabetes 62(5):1505-11. 
Publikationen vor BioSysNet
Aigner B, Rathkolb B, Herbach N, Hrabé de Angelis M, Wanke R, Wolf E. Diabetes models by screen for hyperglycemia in phenotype-driven ENU mouse mutagenesis projects. Am J Physiol Endocrinol Metab. 2008 Feb;294(2):E232-40. Epub 2007 Dec 4. PubMed PMID: 18056790.
Aigner B, Renner S, Kessler B, Klymiuk N, Kurome M, Wünsch A, Wolf E. Transgenic pigs as models for translational biomedical research. J Mol Med (Berl). 2010 Jul;88(7):653-64. Epub 2010 Mar 26. PubMed PMID: 20339830.
Bauersachs S, Ulbrich SE, Zakhartchenko V, Minten M, Reichenbach M, Reichenbach HD, Blum H, Spencer TE, Wolf E. The endometrium responds differently to cloned versus fertilized embryos. Proc Natl Acad Sci U S A. 2009 Apr 7;106(14):5681-6. Epub 2009 Mar 23. PubMed PMID: 19307558.
Bauersachs S, Wolf E. Molecular networks as sensors and drivers of uterine receptivity in livestock. In: MFW te Pas, H Woelders, A Bannink (eds) Systems Biology in Livestock Sciences, John Wiley & Sons, Ltd. 2011, pp 161-190.
Berendt FJ, Fröhlich T, Bolbrinker P, Boelhauve M, Güngör T, Habermann FA, Wolf E, Arnold GJ. Highly sensitive saturation labeling reveals changes in abundance of cell cycle-associated proteins and redox enzyme variants during oocyte maturation in vitro. Proteomics. 2009 Feb;9(3):550-64. PubMed PMID: 19137544.
Dahlhoff M, Grzech M, Habermann FA, Wolf E, Schneider MR. A transgenic mouse line expressing cre recombinase in pancreatic β-cells. Genesis. 2011 Oct 13. doi:10.1002/dvg.20817. [Epub ahead of print] PubMed PMID: 21998080.
Grzech M, Dahlhoff M, Herbach N, Habermann FA, Renner-Müller I, Wanke R, Flaswinkel H, Wolf E, Schneider MR. Specific transgene expression in mouse pancreatic beta-cells under the control of the porcine insulin promoter. Mol Cell Endocrinol. 2010 Feb 5;315(1-2):219-24. Epub 2009 Aug 12. PubMed PMID: 19682540.
Herbach N, Bergmayr M, Göke B, Wolf E, Wanke R. Postnatal development of numbers and mean sizes of pancreatic islets and beta-cells in healthy mice and GIPR(dn) transgenic diabetic mice. PLoS One. 2011;6(7):e22814. Epub 2011 Jul 26. PubMed PMID: 21818396.
Herbach N, Goeke B, Schneider M, Hermanns W, Wolf E, Wanke R. Overexpression of a dominant negative GIP receptor in transgenic mice results in disturbed postnatal pancreatic islet and beta-cell development. Regul Pept. 2005 Feb 15;125(1-3):103-17. PubMed PMID: 15582721.
Herbach N, Göke B, Wolf E, Wanke R. Diets influence the diabetic phenotype of transgenic mice expressing a dominant negative glucose-dependent insulinotropic polypeptide receptor (GIPRdn). Regul Pept. 2008 Feb 7;146(1-3):260-70. Epub 2007 Oct 23. PubMed PMID: 18031839.
Herbach N, Rathkolb B, Kemter E, Pichl L, Klaften M, de Angelis MH, Halban PA, Wolf E, Aigner B, Wanke R. Dominant-negative effects of a novel mutated Ins2 allele causes early-onset diabetes and severe beta-cell loss in Munich Ins2C95S mutant mice. Diabetes. 2007 May;56(5):1268-76. Epub 2007 Feb 15. PubMed PMID: 17303807.
Herbach N, Schairer I, Blutke A, Kautz S, Siebert A, Göke B, Wolf E, Wanke R. Diabetic kidney lesions of GIPRdn transgenic mice: podocyte hypertrophy and thickening of the GBM precede glomerular hypertrophy and glomerulosclerosis. Am J Physiol Renal Physiol. 2009 Apr;296(4):F819-29. Epub 2009 Feb 11. PubMed PMID: 19211686.
Kautz S, van Bürck L, Schuster M, Wolf E, Wanke R, Herbach N. Early insulin therapy prevents beta cell loss in a mouse model for permanent neonatal diabetes (Munich Ins2(C95S)). Diabetologia. 2012 Feb;55(2):382-91. Epub 2011 Nov 18. PubMed PMID: 22095234.
Klymiuk N, Böcker W, Schönitzer V, Bähr A, Radic T, Fröhlich T, Wünsch A, Keßler B, Kurome M, Schilling E, Herbach N, Wanke R, Nagashima H, Mutschler W, Arnold GJ, Schwinzer R, Schieker M, Wolf E. First inducible transgene expression in porcine large animal models. FASEB J. 2012 Mar;26(3):1086-99. Epub 2011 Dec 1. PubMed PMID: 22138035.
Klymiuk N, van Buerck L, Bähr A, Offers M, Kessler B, Wuensch A, Kurome M, Thormann M, Lochner K, Nagashima H, Herbach N, Wanke R, Seissler J, Wolf E. Xenografted islet cell clusters from INSLEA29Y transgenic pigs rescue diabetes and prevent immune rejection in humanized mice. Diabetes. 2012 Apr 20. [Epub ahead of print].
Leidenfrost S, Boelhauve M, Reichenbach M, Güngör T, Reichenbach HD, Sinowatz F, Wolf E, Habermann FA. Cell arrest and cell death in mammalian preimplantation development: lessons from the bovine model. PLoS One. 2011;6(7):e22121. Epub 2011 Jul 21. PubMed PMID: 21811561.
Østrup E, Bauersachs S, Blum H, Wolf E, Hyttel P. Differential endometrial gene expression in pregnant and nonpregnant sows. Biol Reprod. 2010 Aug 1;83(2):277-85. Epub 2010 Apr 14. PubMed PMID: 20393170.
Paula-Lopes FF, Boelhauve M, Habermann FA, Sinowatz F, Wolf E. Leptin promotes meiotic progression and developmental capacity of bovine oocytes via cumulus cell-independent and dependent mechanisms. Biol Reprod. 2007 Mar;76(3):532-41. Epub 2006 Nov 8. PubMed PMID: 17093200.
Renner S, Fehlings C, Herbach N, Hofmann A, von Waldthausen DC, Kessler B, Ulrichs K, Chodnevskaja I, Moskalenko V, Amselgruber W, Göke B, Pfeifer A, Wanke R, Wolf E. Glucose intolerance and reduced proliferation of pancreatic beta-cells in transgenic pigs with impaired glucose-dependent insulinotropic polypeptide function. Diabetes. 2010 May;59(5):1228-38. Epub 2010 Feb 25. PubMed PMID: 20185813.
Renner S, Römisch-Margl W, Prehn C, Krebs S, Adamski J, Göke B, Blum H, Suhre K, Roscher AA, Wolf E. Changing metabolic signatures of amino acids and lipids during the prediabetic period in a pig model with impaired incretin function and reduced β-cell mass. Diabetes. 2012 Apr 9. [Epub ahead of print] PubMed PMID:22492530.
van Bürck L, Blutke A, Kautz S, Rathkolb B, Klaften M, Wagner S, Kemter E, Hrabé de Angelis M, Wolf E, Aigner B, Wanke R, Herbach N. Phenotypic and pathomorphological characteristics of a novel mutant mouse model for maturity-onset diabetes of the young type 2 (MODY 2). Am J Physiol Endocrinol Metab. 2010 Mar;298(3):E512-23. Epub 2009 Dec 1. PubMed PMID: 19952346.